White House abruptly cancels classified Iraq 'progress' briefing with senators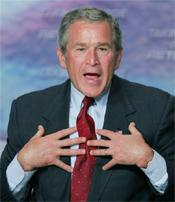 President Bush has cancelled a classified briefing on the situation in Iraq, according to a letter from four Democratic senators obtained by RAW STORY.


US Ambassador to Iraq Zalmay Khalilzad had been set to brief Senators today. Democratic aides tell RAW STORY that the meeting, set to address "all members," was cancelled abruptly yesterday. Requests for a briefing by another administration official went unanswered.

Portion of the letter:

Dear Mr. President:

Today the Senate was expecting to receive a classified briefing from Ambassador Khalilzad on recent developments in Iraq. Yesterday, however, we learned that Ambassador Khalilzad was not available to conduct this briefing and the Administration was unwilling to make other officials available to brief in his place. Given the recent escalation of violence, the increasing risk to U.S. forces, and the failure of the Iraqis to agree on two of the most important Cabinet positions, we are concerned that not a single national security official from your Administration was willing to appear before a bipartisan group of Senators to explain your strategy in Iraq.

This decision is even more troubling when you consider that in the first five months of this year, officials from your cabinet have appeared only sporadically before the Senate to discuss Iraq. In this time, close to 300 troops have died, Iraqis have failed to stand up a unity government, and sectarian violence has increased considerably. Meanwhile, the Congress was asked to appropriate another $60 billion for the war, pushing the total expenditures for Iraq well over $300 billion.