NASA keeps mum on space robot's failure, DART report considered too sensitive for public release [imagine that!]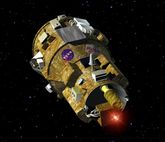 Citing sensitive information, NASA says it will not publicly release its official report on the failure of a spacecraft during a mission to rendezvous with a Pentagon satellite without human help.


The DART [
Demonstration of Autonomous Rendezvous Technology, NASA
] spacecraft was a flight experiment attempting to establish autonomous rendezvous capabilities for the U.S. space program. While previous rendezvous and docking efforts have been piloted by astronauts, the DART spacecraft completed the rendezvous and acquisition with no human intervention, relying on a variety of sensors and analyses to complete these functions.

The 70-page document on the DART spacecraft mishap contains details protected by the International Traffic in Arms Regulations, space agency spokesman Michael Braukus told The Associated Press on Friday.

NASA's embarrassment over the DART debacle, and the excruciatingly long wait for public disclosure of the mishap report, contrasts with the tone of reports relating to the U.S. Air Force's robot rendezvous mission, known as XSS-11.
The XSS-11 spacecraft made a successful rendezvous with its own booster rocket last September — an achievement first reported on MSNBC.com — and then began shifting its path to match orbits with another target satellite.


The XSS-11 spacecraft may be part of a larger move towards reinvigorating US anti-satellite capabilities
; a prelude to the
weaponization of space
, which is on the Bush administration's agenda.
Dr. Joan Johnson-Freese of the Naval War College,Testimony Before the U.S.-China Economic and Security Review Commission, September 15, 2005: "the XSS microsat program and Air Force statement that, 'XSS-11 can be used as an ASAT weapon'"